Catering Services
Here you'll find great catering resources for your next corporate event or party. We are continually updating this page, so remember to bookmark this location, and check back often. We'll have new catering items coming soon!
Candy Buffet
We specialize in elaborate candy buffets. We can customize the buffet to complement any event. Our buffets typically include hand poured chocolate suckers to match any color. Candies of all your favorite brands. Gum balls in any color, as well as rock candy, candy sticks and candy pieces.

These buffets are great for Weddings, Birthday parties, Baby Shower, Corporate events, Fund Raisers and Holidays.

Ribbons, glass wear, monograms, candy and table linens can all be changed to match desired colors or themes.

Below are some examples of selections from our Candy Buffet menu.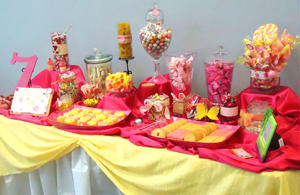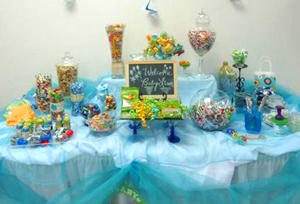 Grilling Time!
Enjoy the outdoors this year with a cookout. Select any of our grilled or smoked dishes and have award winning BBQ at your event. Whether it is burgers and brats, salmon or our famous ribs, you'll enjoy having Kentucky's premier BBQ specialists deliver the taste that will have you and your guests raving. On site grills and grill chefs are available at an additional cost.
Picnic Time
Prices are based on groups of 100+
Prices can be adjusted to smaller groups

Picnic Time menus include:
Two Sandwiches per person
Two Side Items per person
Chips
Dessert Bars
Lemonade


Cookout Menu Entrees
Angus Beef Burgers
All Beef Hot Dogs, Brats, Smoked or Italian Sausages
Hickory Smoked or Barbequed Chicken Breasts
Pulled BBQ Pork, Beef, or Chicken
Smoked Beef Brisket
Smoked Chicken Quarters
Grilled Pork Chops
Ribeye Steaks
Ribs
Hickory Smoked Beef Tenderloin
Grilled Salmon or Grilled Swordfish
Grilled Kabobs
Grilled Steak Chimichurri
Grilled Fajitas
Burritos
Tortilla Wraps
Enchiladas
Tacos - Grilled steak, marinated pork and/or pulled chicken
Whole Smoked Pig
Grilled Portable Mushrooms
Grilled Vegetable Kabobs

Side Items
Caesar salad
Twice Baked Potato Salad
Bleu Cheese Slaw
Broccoli Strawberry Peanut Salad
BBQ Baked Beans
Mac N' Cheese
Country Green Beans with Ham
Corn Coblets
Grilled Shuck on Corn
Grilled Spiced Corn
Black Beans & Rice
Refried Beans with Cheese
Spanish Rice

All menus are subject to a 10% -25% service charge
Delivery or hourly staff charges and facility fee charges may apply